I love trying out different lipsticks but that's not the case when it comes to matte finish ones but this time my favourite drugstore brand has surprised me by their very creamy range of Bold Matte Lipsticks.
The bold Matte lipstick by Maybelline come in five shades ranging from MAT 1- MAT 5.
There was so much hype about the release of this lipsticks that I
had to pick them up on my visit
to NBC. I chose the "MAT 2"lippy :)
, a beautiful coral shade
with orange undertones
and it looks
fabulous on swatching it.
They are priced at Rs 375 for 3.9 gms with a shelf life of 3 years.
Maybelline has assigned names to these lippies in the international market but this is not the
case
here :((
By the way I love coral lipsticks and that is the reason I am reviewing another coral shade from
my lippy collection.
So coming to the packaging of the product, the lipstick comes in a seal with BOLD MATTE by
Color Sensational written on it.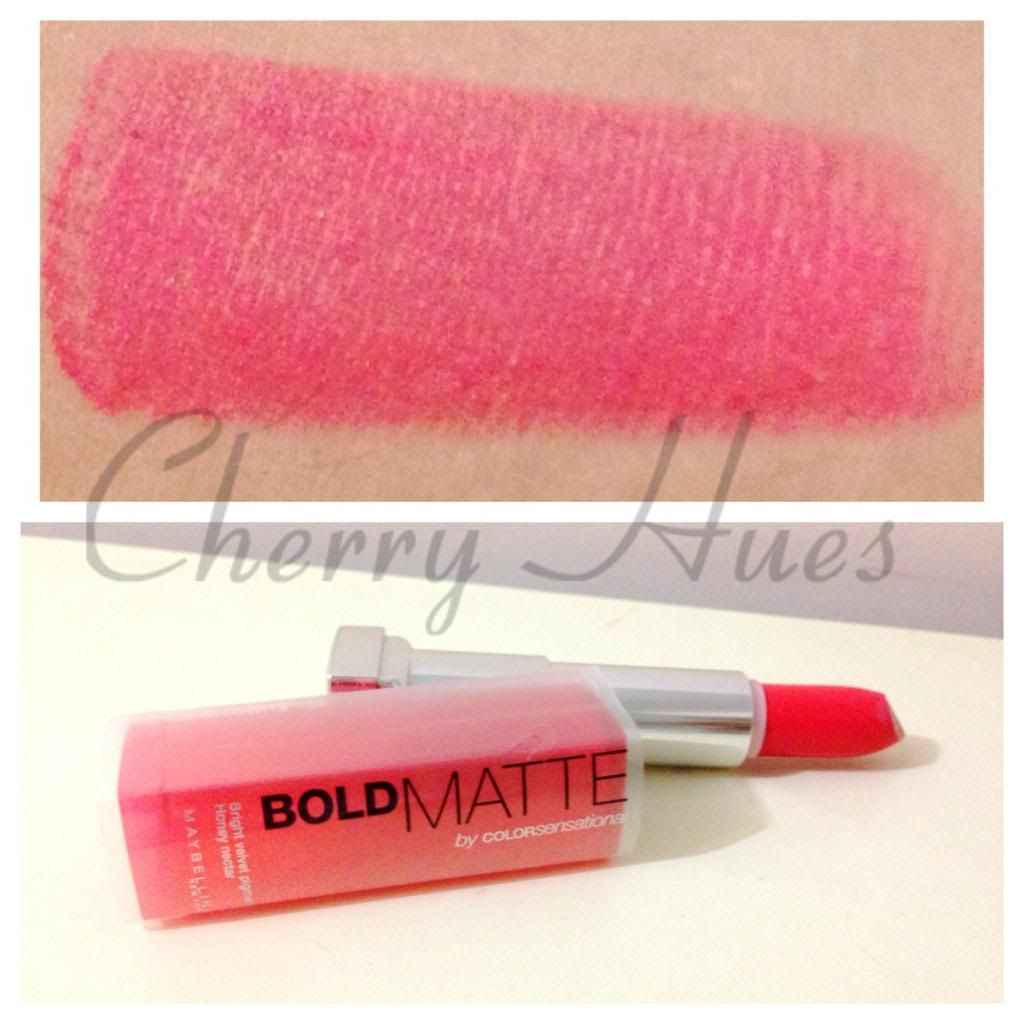 The lipstick comes in a clear matte case which looks sleek and classy.
Though the company mentions Matte but it is not matte its semi matte. In fact it is creamy which
makes the application very easy.
At first I was reluctant to buy this lipstick as I have dry lips and matte
formula is difficult in
application but I am happy that I gave it a try.
There wasn't any need to apply
lip balm and still it felt creamy, so for me formula wise it just
AWESOME.
Its semi matte and the color is buildable depending on how you prefer.
The staying power is around 4-5 hours after a having a light meal and it leaves behind a slight
stain which looks beautiful not that bold.
Fragrance free lipsticks which is a good thing especially for me.
Without Flash
With Flash
What I liked
Creamy Formula, easy application and feels light on lips.
Staying power for 4-5 hours.
Dislik
e:
Names would be better to Mat 1,2,3,4,5.
I would rate this 4.5/5
You guys should definitely try it out and I can't wait to try out more shades from this range.
By the way any suggestions for naming Mat 2 ??
Have you tried any from this range , do let me
know by dropping by your comments.
Thanks and keep supporting.
Hugs and Kisses